City Responds to Resident Input on Outfall Structure – Revised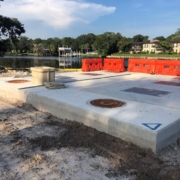 As suggested by residents, the City has requested some changes to the appearance of the new outfall structure at Haya Linear Park. Nelson Construction has worked with the engineer, the City and permitting agencies to make the following improvements to soften the appearance of the structure:
The grade around the outfall will be raised. Instead of 12 inches of the structure sticking up above the ground, more dirt will be added to the park and so only 6 inches of the structure will be visible above the ground.
A decorative paver drive will provide access for heavy maintenance vehicles. The wooden bollards previously delineating the park that were removed for construction will be replaced, and a chain will be kept across the paver driveway to prevent public vehicles from driving up to or onto the top of the outfall structure.
A handrail will be added along 3 sides to provide drop off protection as required for worker safety and because it will be open to the public as part of the park.
The structure will be stained and painted green to match the sod that will be installed, and pink muhly grass will be added to three sides to improve the overall appearance. (Environmental permits limit what can be planted near and around the outfall by the contractor).
These changes mean a slight delay in final restoration for the area, which we are striving to have complete by the end of the year.
https://seminoleheightsstormwater.com/wp-content/uploads/2019/10/seminole-heights-stormwater-logo-small.jpg
0
0
Audrey Clarke
https://seminoleheightsstormwater.com/wp-content/uploads/2019/10/seminole-heights-stormwater-logo-small.jpg
Audrey Clarke
2022-09-12 14:17:14
2022-09-12 21:31:19
City Responds to Resident Input on Outfall Structure – Revised