City of Tampa Offers Free Sandbags to Residents
The City of Tampa is offering free sandbags to residents June 3-5. Bags, sand and shovels will be available. There will also be volunteers available to help those who cannot fill their own sandbags. Visit the www.tampa.gov/Hurricane to learn more.
Friday, June 3: 3 p.m.-7 p.m.
Saturday, June 4: 7 a.m. – 7 p.m.
Sunday, June 5: 7 a.m.- 7 p.m.
Pickup Locations:
Himes Avenue Complex
4501 S. Himes Avenue, Tampa, FL 33611
Al Barnes Park
2902 N. 32nd Street, Tampa, FL 33605
MacFarlane Park
1700 N MacDill Avenue, Tampa, FL 33607
Site between Maxwell and Renfrew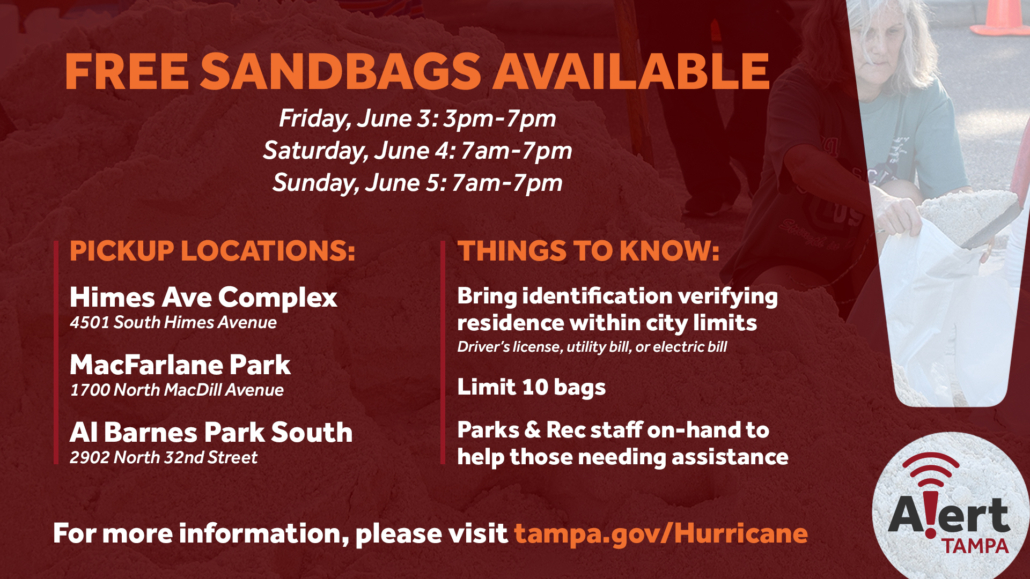 https://seminoleheightsstormwater.com/wp-content/uploads/2019/10/seminole-heights-stormwater-logo-small.jpg
0
0
Audrey Clarke
https://seminoleheightsstormwater.com/wp-content/uploads/2019/10/seminole-heights-stormwater-logo-small.jpg
Audrey Clarke
2022-06-03 11:55:08
2022-06-03 11:55:08
City of Tampa Offers Free Sandbags to Residents